CSL's popularity can be attributed to its large range of price options they offer starting from HKD198 (to HKD698), and this appeals to a wide segment of customers; whereas 3HK only offers two price options (HKD388 & HKD688).
Price is regarded as the most important factor in the selection of a 5G plan, particularly among young adults aged below 30.
Nearly 90% of HK adults are aware of new 5G mobile service plans in the market, but less than 40% know the benefits of 5G technology. Most Hong Kong people choose 5G plans based on price because they are yet aware of the benefits 5G technology brings and what service providers can offer.
Different age groups have different perceptions on how they would use 5G technology. The younger generation below 30 believes that 5G technology could enhance their high-tech experience and entertainment needs, while older age group of 50 or above values 5G technology's pragmatic application, such as its geographical coverage, network security and ability to multi-task.
It is important to educate the public on the benefits of 5G technology to induce trial to drive the smart city development of Hong Kong.
HONG KONG, Wednesday, 26 August 2020 – To foster Hong Kong's transition into a "smart city", the Hong Kong Special Administrative Region (HKSAR) Government has undertaken a series of measures to encourage the full-scale deployment of 5G communication technology in the city since 2017. To date, four mobile network operators, including CSL, China Mobile Hong Kong (CMHK), SmarTone and 3HK, are providing 5G mobile services in the market.
Consumer Search Group (CSG), a leading market research firm in Asia, recently collaborated with Toluna, a consumer panel company, on the public perception towards 5G mobile network in Hong Kong. Feedback from a total of 503 Hong Kong adults aged 18 or above was collected in July 2020.
Preferences of Future 5G Mobile Service Provider
CSL is ranked the top in terms of preferred 5G mobile service provider; over two in five respondents (44%) indicate that they would select CSL's 5G plan. This is a considerably higher than its current share of the mobile service market (33%) (Figure 1). Meanwhile, CMHK is the second-most preferred 5G mobile service provider (27%), and its market share is stable compared to its current proportion of subscription (29%).
On the contrary, both SmarTone and 3HK stand to lose their market shares with their 5G mobile plans offers. Only 8% of respondents have chosen SmarTone (current market share of 20%); and 3% indicating their interest in signing a 5G plan with 3HK (current market share of 22%).
Both CSL and CMHK offer a wider range of lower-price 5G mobile service plans. Among different plans in the market, CSL's 8GB plan (HKD198/month) and CMHK's 30GB plan (HKD198/month) are the most popular (22% and 18% will consider these plans respectively). From our research, it shows that options with a lower price and a wider range of price offers are important to Hong Kong adults' selection of 5G plans (Figure 2). The finding could be further supported by relatively lower brand switching for the two providers (23% and 36% of current CSL and CMHK subscribers indicate that they are willing to switch to another brand for 5G services).
Meanwhile, SmarTone and 3HK only offer 1-2 plans where price starts from nearly HKD400/month, which is perceived to be too high (the average price of current mobile subscription is HKD195/month). As a result, a significant proportion of their current customers (50% for SmarTone; 73% for 3HK) indicate that they will switch brands.
Although providing low-price options is important to attract customers to purchase 5G mobile service plans, educating customers of the benefits 5G technology brings is also crucial to gaining and growing market share.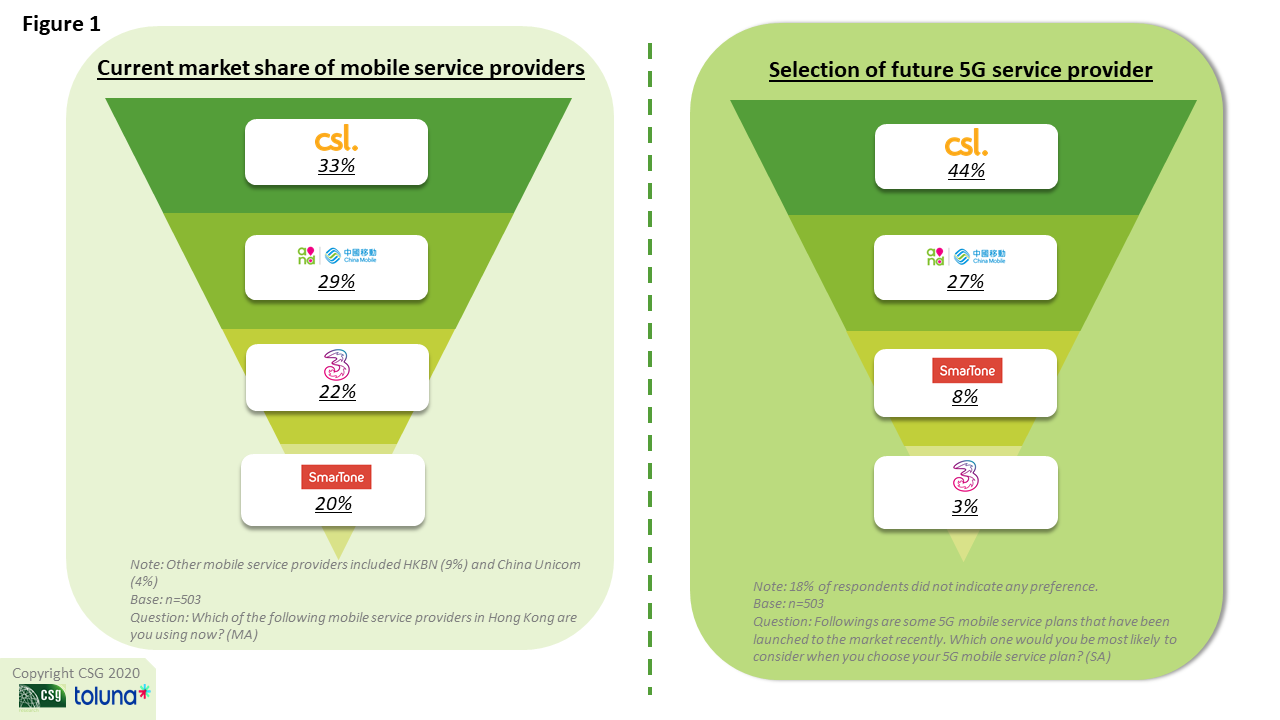 Level of Awareness of 5G Benefits
Majority of respondents claim that they are aware of the new 5G mobile service plans in the market (87%). However, only 37% of respondents indicate that they are completely aware of the benefits of 5G communication technology (Figure 3).
There is a large age discrepancy in terms of awareness of 5G technology and its benefits. A higher proportion of respondents in their 30s (43%) and 40s (41%) claim to be very familiar with the benefits of 5G. In contrast, the younger aged 18-29 (34%) and older age group of 50 or above (30%) show a lower level of awareness of 5G technology's benefits. It is important that we communicate and target different age groups based on the level of awareness of the application and benefits of such technology.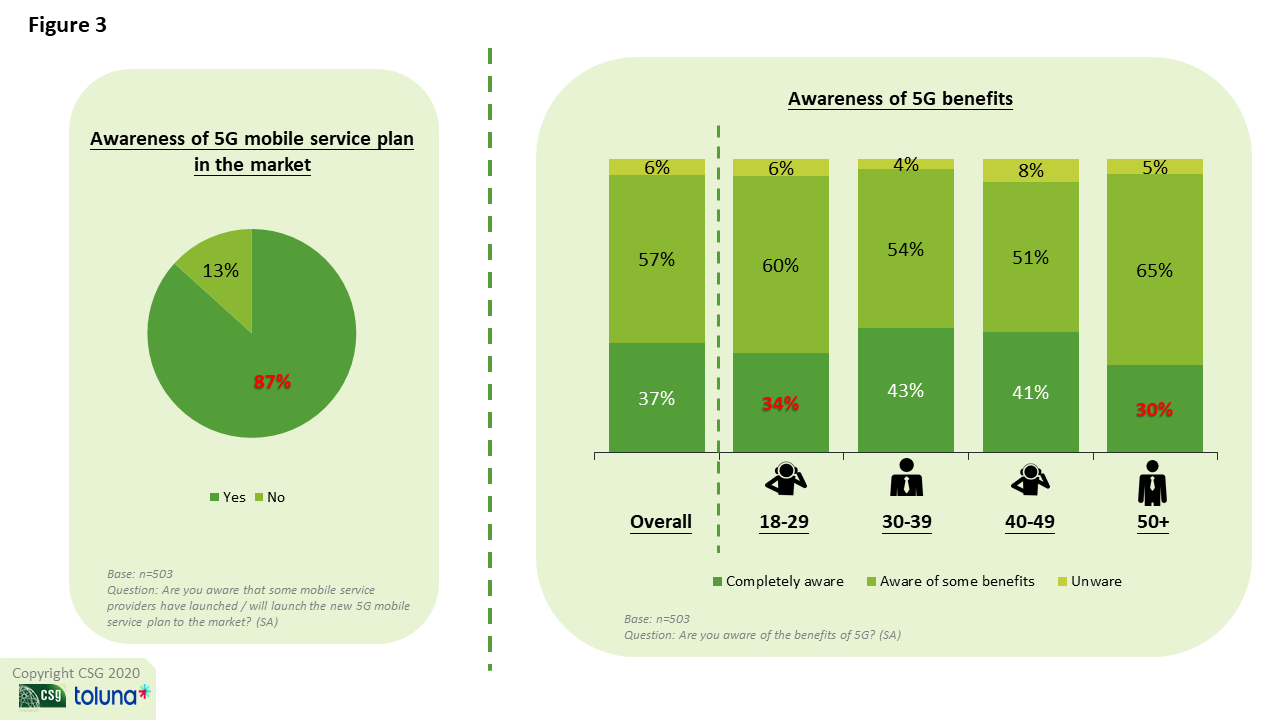 Important Drivers in Choosing A 5G Mobile Service Provider
Price is the most important driver in the selection of 5G provider (57%), especially for the younger generation aged 18-29 (68%) (Figure 4). It is in line with the previous finding that majority of customers opt for a lower-price options when selecting 5G mobile service provider.
Age differences could also be found in other important drivers. Age group of 50+ values 'network geographical coverage' (45%, as compared to about one in three in other age groups). More consumers aged 50+ (41%) also consider 'network security' important than other age groups. On the other hand, younger generation aged 18-29 wants better 'network speed' (44%).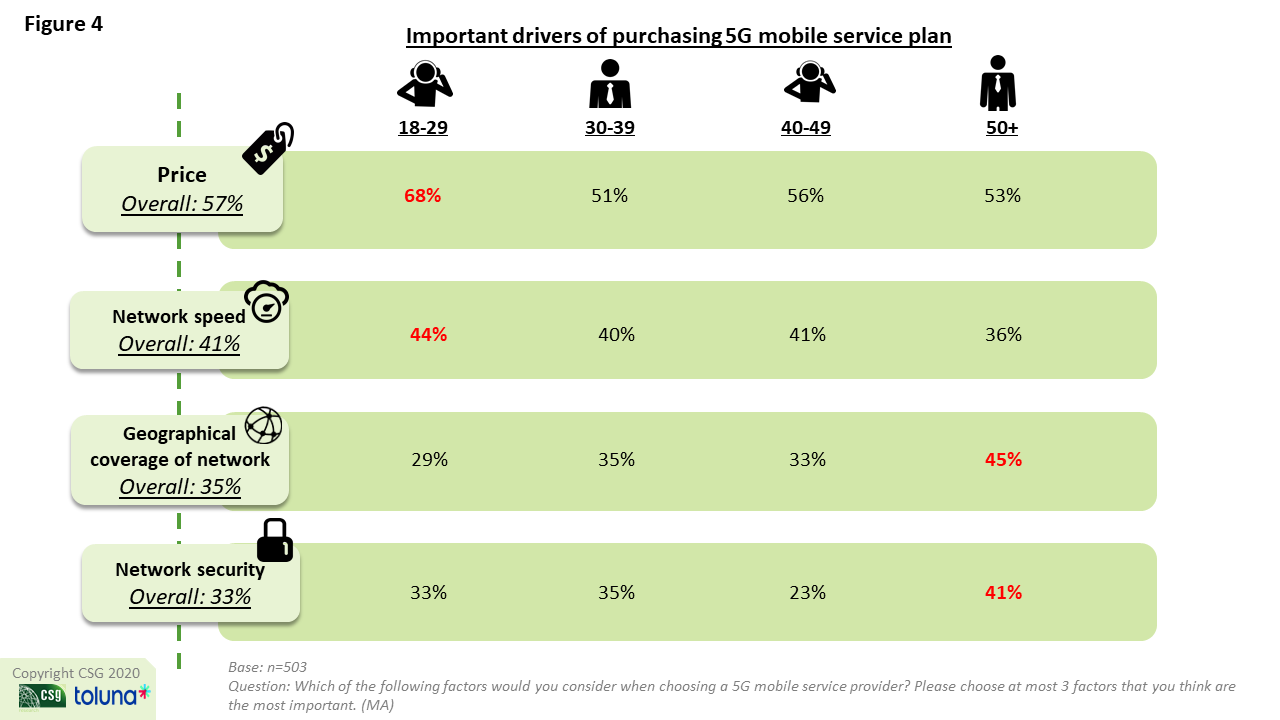 Useful Application of 5G Technology in Daily Lives
In addition, age differences could be found in perceived usage of 5G application in daily lives between the young (18-39) and mature customers (50+) (Figure 5).
For instance, there is a clear difference in 'better gaming experience' – two in five respondents aged 18-39 perceive it as important while only less than a quarter of those aged 40 or above say so. Furthermore, the younger age group values 'more precise facial recognition' and 'more responsive VR' more than mature customers. It suggests that younger generation tends to apply 5G technology for high-tech experience and entertainment, which echoes with the previous finding that 'network speed', fundamental to immersive high-tech experiences, is more perceived as an important driver for the younger generation to choose 5G plans.
Mature customers consider 'advanced smart living experience' and 'smoother multi-tasking on a single device' useful. It is evident that they are more likely to apply 5G technology for more pragmatic uses.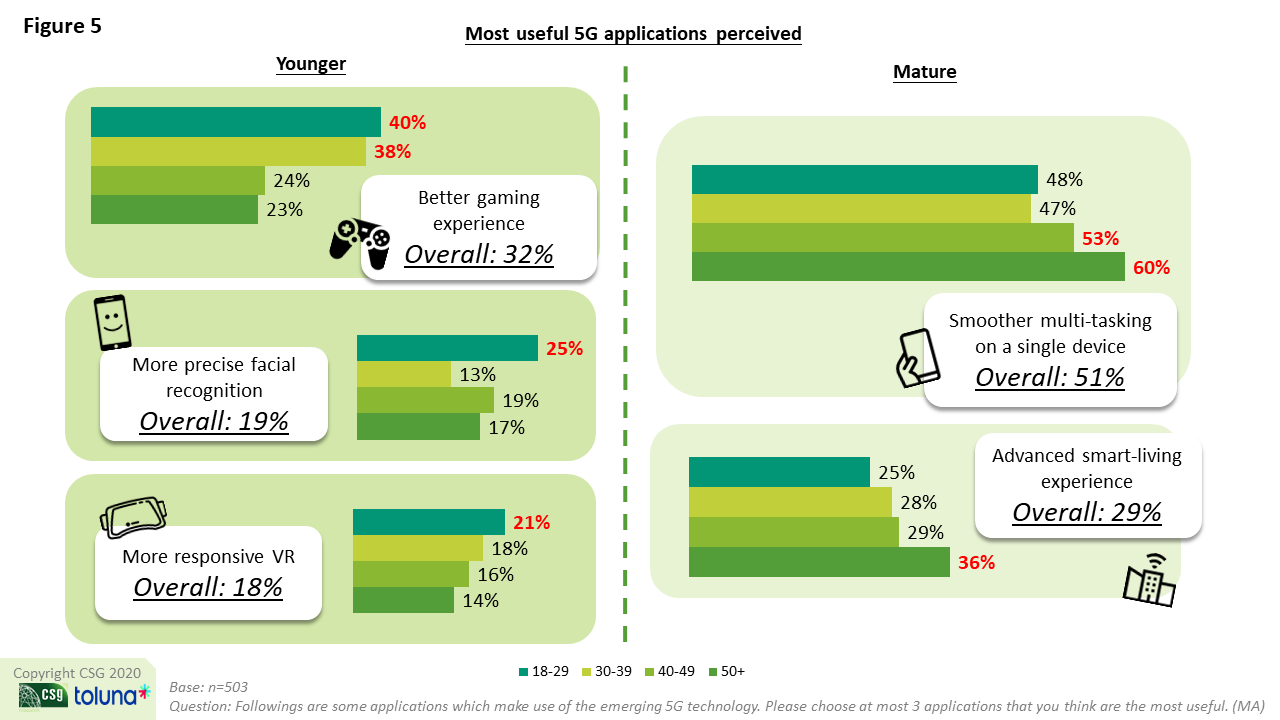 Insights
The current CSG 5G Research has revealed that price is the most important factor in considering a 5G mobile plan and thus it is essential that a mobile service provider must include a range of price options to attract a larger share of the market. Price is an even more important consideration when customers are not familiar of the benefits of the 5G technology.
This research has also revealed that network speed, coverage and network security are important consideration factors. While all mobile service providers are promoting their network quality as the best in the market, it is difficult for consumers to differentiate them without trials. Hence, in addition to low price levels, flexible contracts which enable customers to upgrade their service coverage or trade in compatible devices in response to higher dependency on 5G network would be pivotal in gaining market share.
What are the factors to being a successful 5G mobile service provider?
We believe that these elements are fundamentals for success:
Provide an inclusive package to users, i.e. competitive price options and flexible contracts, together with fast, smooth and stable network;
Educate customers on 5G benefits and how best to apply 5G technology in their daily lives;
Adopt a segmented approach to target service offers to different groups (e.g. young vs mature).