A mystery shopping research program conducted by CSG on luxury boutiques services in Hong Kong reveal that the luxury sales associates' ability to provide good service to local luxury customers is extremely poor; especially their [luxury sales associates'] ability:
to understand the needs of local luxury customers, particularly Chanel and Louis Vuitton, who were rated as having the worst overall service by the shoppers;
to proactively introduce products, cross-sell and handle objections; and
to connect with Gen Z – who were largely ignored; whom the sales associates showed little interest in selling anything to.

HONG KONG, Thursday, 31st December 2020 – In a year that saw a substantial decrease of high-spending mainland luxury visitors, Hong Kong's luxury boutiques provided poor customer service – based on 150 visits to luxury boutiques/ multi-brand retailers by local luxury shoppers in late November/ early December 2020.
CSG mystery shoppers visited boutiques from a total of 10 luxury brands including: Chanel, Prada, Louis Vuitton, Burberry, Hermès, Gucci, Tiffany & Co., Cartier, Pye and Coach, and stores from 3 multi-brand retailers – Harvey Nichols, Land Crawford and Joyce.
The results show that except for Cartier (88.4%), each brand failed to meet the baseline of good customer service (85%). Among the 10 luxury brands, Chanel (78.3%), Louis Vuitton (73.2%) and Coach (71.4%) ranked bottom in servicing local luxury shoppers. Meanwhile all multi-brand retailers provided sub-par performances – i.e., below 70%, especially Lane Crawford who obtained a low score – only 59.7%. (see fig 1)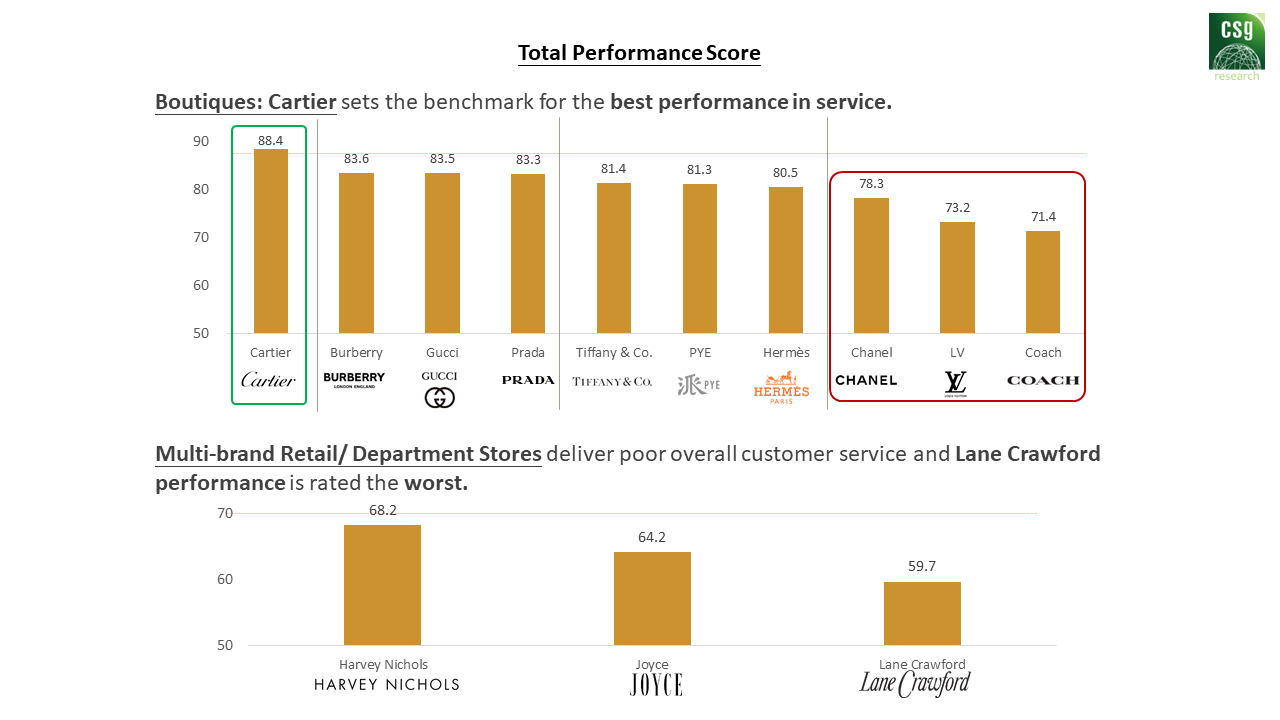 FIG 1 – OVERALL SERVICE RATINGS
Mystery shoppers from CSG evaluated the boutiques and multi-brand retailers on 6 key areas: Staff Grooming, Store Environment, Staff Service, Staff Greeting, Closing and Selling Process (see appendix for details of the evaluation). The results show that the overall poor service / performance can mainly be attributed to the lack of staff greetings (72.7%), the closing (71.3%) and selling process (68.8%) (see fig 2)
"With the overall challenging retail environment in 2020, it is surprising to see the lack of interest to sell to local luxury shoppers by these luxury retail associates", said Simon Tye, Executive Director, CSG, "We had expected that the luxury retail associates would be proactively interacting, understanding the needs of the local luxury shoppers and making extra effort to introduce their products."
FIG 2: SERVICE EVALUATION CRITERIA
From this research, most of the mystery shoppers were not greeted when they first entered the boutique. When in the store, the overall approach was passive, and the sales associate did not show genuine interest to engage and sell. The associates did not try to close the sales with the customers and show low to no interest in connecting with customers – not requesting customer's contact to follow up. Adding to the unsatisfactory service was the poor attitude when handling customers' questions – they were not keen to show the products to potential clients, instead they were looking at their mobile phone. In addition, most did not know enough about the products and were not able to provide details. Finally, staff lacked proactivity when it came to suggesting alternative products if the requested ones were not available.
Cartier was overall the top performing brand, excelling in the Greetings (83.7%) phase – when a customer enters the store, and the Closing (86.9%) phase – that includes the sale's closing, the addition of new customers in the database and the farewell process. (see fig 3)
In contrast to Cartier, Louis Vuitton, Chanel, and Coach ranked bottom on both the selling and closing phases.
As an illustration, Louis Vuitton sales associate made the shopper's visit uncomfortable, not making the customer feel worthy of purchasing products from LV. Regarding Chanel, sales associates did not seem interested in understanding shopper's needs.
FIG 3 – BRAND PERFORMANCE FOR EACH SERVICE TOUCH POINTS
This research also shows that the Hong Kong luxury service is particularly weak among Young Millennials (aged 26 – 35) and Gen Z (aged 18 – 25) (see fig 4). From the China Luxury Forecast research conducted by CSG, these 2 segments are high spending segments (Gen Z and Millennials respectively spent HKD119,000 and HKD144,000 annually on luxury). This lack of dedication in building customer loyalty through excellent service and interest in connecting is a risk that could lead to long-term damages especially as the most dissatisfied categories are the next generations of customers – and already high spenders in the luxury industry.
Cartier is the only high performing brand across all segments, while Louis Vuitton (65.9%) and Coach (63.7%) performed poorly and should reassess their trainings to provide better services to the young segments. (see fig 5)
Fig 4 SERVICE PEROFRMANCE BY AGE GROUP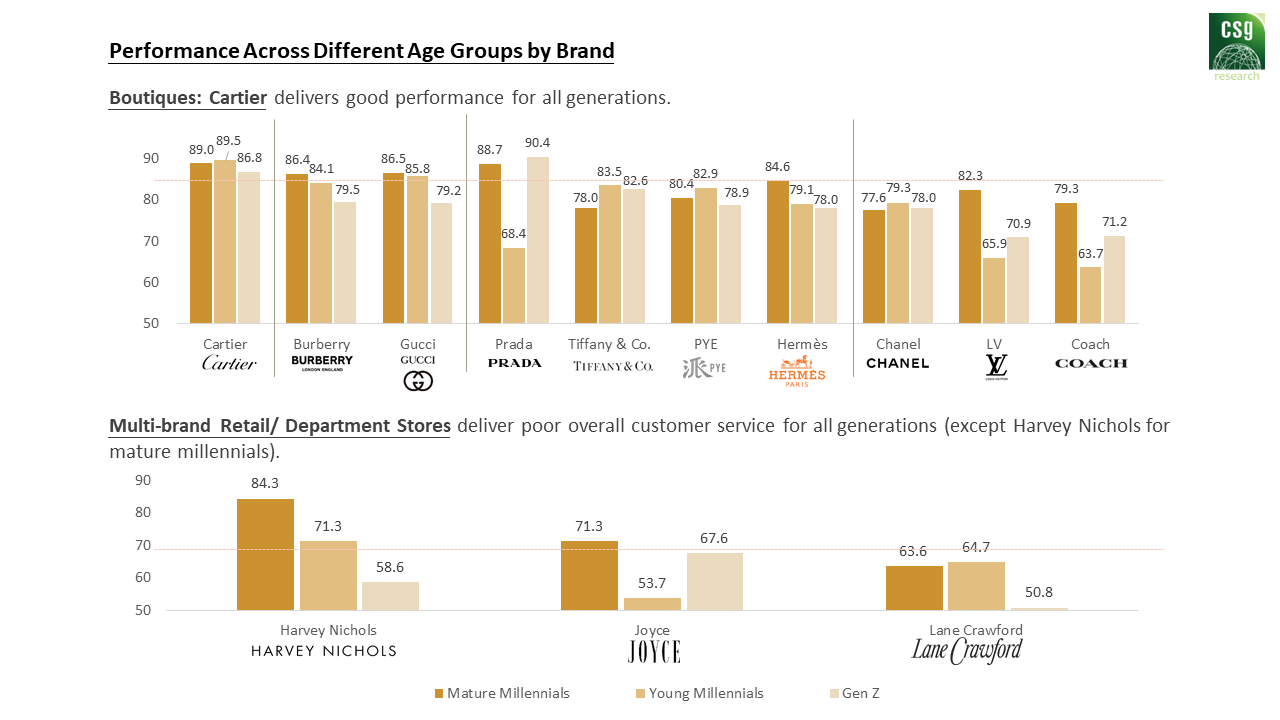 Fig 5: SERVICE PEROFRMACE BY BRANDS FOR EACH SEGMENT
"From the study, Hong Kong's status as a luxury city could be threatened by such poor customer service. Big spending mainland customers are not coming back to city anytime soon and if services do not improve, the luxury retail performance could have further negative impact in 2021", said Simon Tye, Executive Director CSG Research. "It is imperative if Hong Kong is to retain its status as a luxury city to:
ensure luxury sales associates truly understand customers' needs
provide training, more training and retaining to adapt to the changing needs of the different segments of customers – especially Gen Z combing physical store experience reinforced with consistent digital engagement
connect through empathy, expertise and exceptional attitude."
About the Survey
Data was collected from Nov 26 to Dec 8 2020 from 150 mystery visits to boutiques of 10 luxury brands – Chanel, Prada, Louis Vuitton, Burberry, Hermès, Gucci, Pye, Coach, Tiffany & Co., and Cartier, and stores from 3 multi-brand retailers – Harvey Nichols, Lane Crawford, and Joyce. Each store, except those located in Hong Kong International Airport and duty-free stores, was visited twice. 50% of visits were conducted on weekdays and 50% on weekends. There was an even distribution of visits from Gen Z (aged 18-25), Young Millennials (aged 26-35) and Mature Millennials (36-45) mystery shoppers.
About CSG
CSG is one of the leading marketing research firms established in Hong Kong in 1982 offering comprehensive research services to clients in diverse industries and a marketing research pioneer in Greater China. The company has further expanded from providing regional to global marketing research services through connection with the Win/Gallup International network. CSG offer a full range of research methodologies and solutions, including innovative tools like facial coding and eye tracker. Since 2013, CSG became a member of the INTAGE Group which is the leading market research organization in Japan and is ranked 7th largest globally. For more information, please visit https://www.csg-worldwide.com/.
For more information, please contact:
Simon Tye
Executive Director, CSG Research
Email: [email protected]
Tel: (+852) 2591-3526
APPENDIX – RESEARCH COVERAGE
1. Staff grooming
· Uniform in tidy and clean condition
· Wore name badge
· Hair in tidy and clean condition
· Appropriate makeup
· Beard shaved/ in neat and tidy condition
· Nails were tidy and in appropriate length
2. Staff greeting
· Asked customer to measure temperature politely
· Offered hand sanitizer politely
· Time required for staff recognized and greeted
· Staff were available to serve upon entering
· Greeted with smile
· Greeted with eye contact
· Asked customer to wait for a while (when staff are all occupied)
· Ready to serve (when at least 1 staff available)
· Greeted with greeting sentence (when at least 1 staff available)
· Self-introduction by staff
· Offered name card proactively
· Started conversation with ice breaking
· Asked for customer's name proactively
3. Staff service
· Polite and friendly
· Smile
· Eye contact
· Addressed customer with name
· Talked with confidence
· Asked open-ended questions to understand needs
· Listened to customer's needs
· Reacted to customer when listening needs
· Staff did not leave in the middle of conversation
· Explained why he/she needed to leave
· Waiting time when staff left in the middle
· Transferred to another staff
· Explained why customer needed to be transferred
· Waiting time for transferal
4. Selling process
· Explained/ introduced product proactively
· Product introduction – Design
· Product introduction – Workmanship/ details
· Product introduction – Materials used
· Product introduction – Brand history
· Product introduction – Corporate Social Responsibility
· Invitation to try on product
· Cross sell
· Staff handled products with care
· Replied objection politely
· Offered alternative recommendation to reply objections
· Used digital tool to aid selling
· Mentioned brand online store when selling
· Able to answer questions about online store with sufficient information
5. Closing
· Affirmed product choice
· Tried to close the sale
· Attitude did not changed when customer determined not to purchase
· Asked customer to leave contact for future connection
· Walked customer to the door
· Said "Goodbye/ See you next time"
· Stayed and watched customer leaving the store
6. Environment
· Clean and tidy window display
· Clean and tidy environment overall
· Appropriate volume of music in the store
· Attractive product display
· Personal item visible in store area