Hong Kong retail sales by value tumbled again in January, entering a 12-month losing streak after a Lunar New Year holiday interrupted by the coronavirus outbreak and amid months of anti-Beijing protests.
Retail sales by value fell 21.4% in January from a year earlier, extending a run of declines that started in February, the longest downward trajectory in three years. Retail sales volume also dropped 23%.
Hong Kong's retailers and shopping malls had been battered by months of political unrest before the viral outbreak that emerged in China in December and escalated ahead of the Lunar New Year holiday.
Preliminary visitor arrivals data for February showed average daily traffic to the city plummeted to fewer than 3,000 people, according to the Hong Kong Tourism Board. That's an almost 99% decline from the year-ago period, data compiled by Bloomberg show.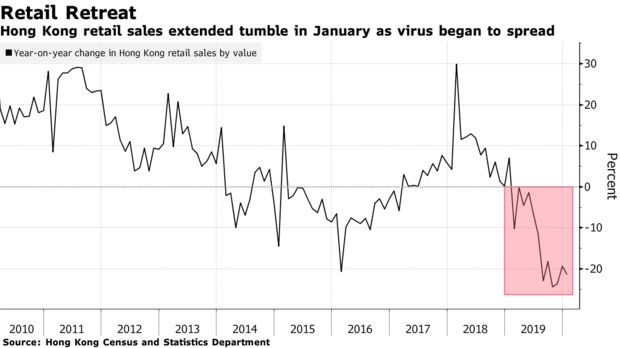 The business environment for retail trade has turned even more austere in the recent weeks, the Hong Kong government said in a statement Monday, as the epidemic brings inbound tourism to a near standstill and severely disrupts all consumption-related activities.
The drop in January was worse than expected as the Lunar New Year was supposed to give a boost to retail sales, said Annie Tse, chairwoman of the Hong Kong Retail Management Association. She expects to see a bigger decline in February when the virus had spread to at least 65 nations, triggering strict travel curbs and forcing people to stay indoors.
'Another Abyss'
"We didn't have enough time to return to normalcy after the blow from protests. Then we drop into another abyss," said Tse. If the impact of epidemic lasts for several months, it may hit this year's first-half sales by as much as 50%, she said, making it "the record drop" since Hong Kong started compiling retail sales data.
Before the current turmoil, the longest losing streak for Hong Kong's retail sector was a two-year stretch that started in March 2015 and ended in February 2017. Several factors were behind that downturn including the Occupy Central protests, China stepping up an anti-corruption campaign and Japan and South Korea taking more tourists from mainland China, diverting some away from Hong Kong.
Last week, Chief Executive Carrie Lam's administration rolled out the boldest budget in recent years, giving a payment of HK$10,000 ($1,286) to each permanent resident of the city 18 or older in an attempt to stabilize the economy.
Months of political unrest over China's role in the city pushed Hong Kong last year into its first annual recession in a decade, with economists forecasting a second annual contraction in 2020 as disruptions from the coronavirus outbreak further depress output.
The double whammy of the protests and the virus has led to a wave of retail closures and layoffs, and is spurring soul-searching about Hong Kong's reliance on tourists from mainland China to power its retail sector.
"Hong Kong really needs to think about how else we can continue to evolve beyond just catering to one particular segment of customers coming to Hong Kong," said Simon Tye, executive director of consultancy Consumer Search Group in an interview last week before the release of retail sales data. "There's a need to refocus on our domestic customers as well."
Source: Bloomberg
https://www.bloomberg.com/news/articles/2020-03-02/hong-kong-january-retail-sales-tumble-for-12th-straight-month?sref=KodwJrjT