Less than a quarter in Hong Kong believed that neither candidates will perform better than the current president when elected.
Hong Kong, Monday 17th October 2016 – CSG participated in a worldwide poll on the forthcoming US Elections in collaboration with WIN/Gallup International, the largest network of the world's top independent pollsters. This survey was carried out in 45 countries, representing almost 75% of the world's population. The poll was carried out during August and September among a total of 44, 194 men and women and its detailed findings are available at www.wingia.com. In Hong Kong, the poll was conducted among 500 samples of Hong Kong adult population (18+).
The result shows that the American Presidential Election is arousing widespread engagement across the world. Among those polled in Hong Kong, 66% said that the outcome of the choice that American made in November will have very high (13%) or high impact (53%) on their country in relation to economic progress and trade (See Figure 1). "With U.S. goods and services trade in Hong Kong totaled US$62.1 billion in 2015 which represent 20% of the territory's GDP, it is not surprising to see the significant interest and concerns that Hong Kong have with the US Presidential Election" said CSG Director Winnie Poon.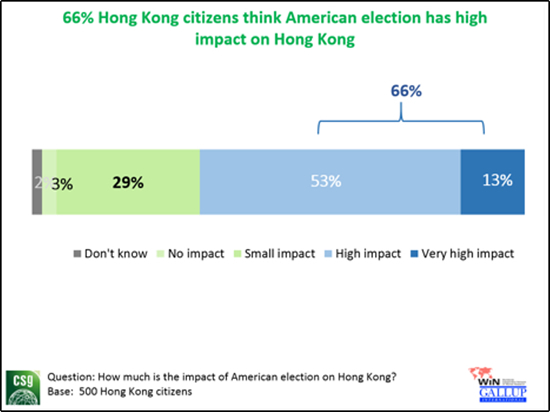 On matters of economic policy, the majority (64%) in Hong Kong hoped that the next American President not to be swayed by local American interests alone, but to either focus on interests of the entire world, or give equal priority to both local and global concerns (See Figure 2). Commenting on the findings of the poll, Winnie said "Given that the world is globalized and America leads it in economic matters, there is expectation from Hong Kong for America to consider global interests".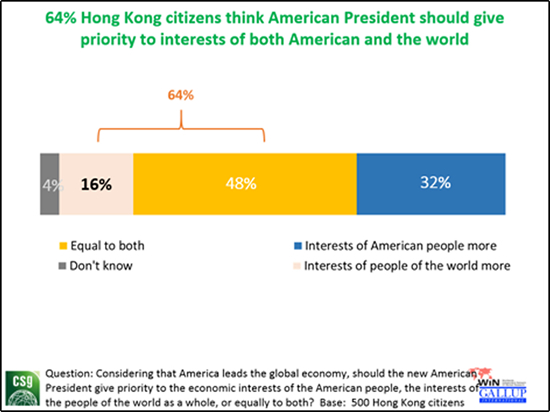 However, there is less than a quarter that believed that neither candidate will perform better than the current president. Only 24% believed that Mrs. Clinton will perform better than the current president and even less (11%) believed that Mr. Trump will be able to do so (See Figure 3). Mr. Obama is viewed by a third (31%) in Hong Kong to have set a high bar and made America stronger as a world power under his leadership (See Figure 4).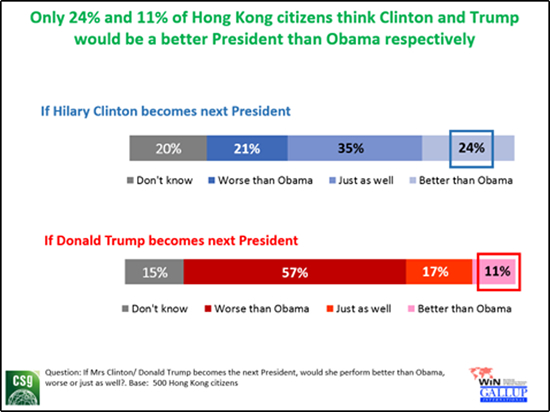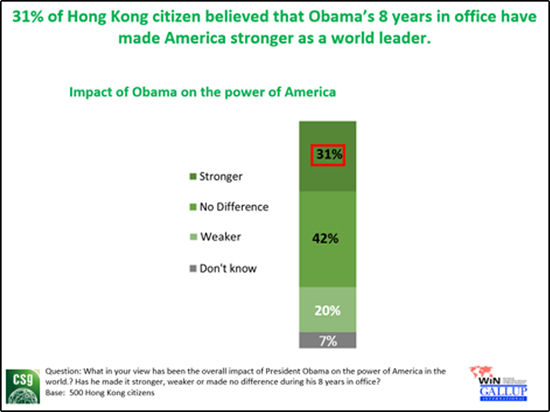 About the Survey
Online method was employed to reach respondents aged 18 or above in Hong Kong. A total of 500 samples were collected with pre-set quotas on age and gender according to population distribution from census.
For More Information
Contact:
Ms. Winnie Poon (Research Director)
[email protected]
DID: +852-2591-3530