22nd February, 2017, Hong Kong: CSG reveals that Hong Kong affluent segment are likely to not commit to their 2017 resolution and 58% of them will make the same resolution again next year.
CSG recently conducted a survey with 400 Hong Kong affluent individuals and 500 Chinese affluent regarding the resolutions they have intend for 2017, and their commitment to achieving these resolutions. From the survey, 61% (Hong Kong) and 59% (Chinese) affluent adults has made resolutions for 2017.
Wesley Wu, CSG Director says "from the findings, there appear to be distinct differences between the Hong Kong and Chinese affluent individuals in terms of their resolutions and also their commitment of resources to achieving their resolutions":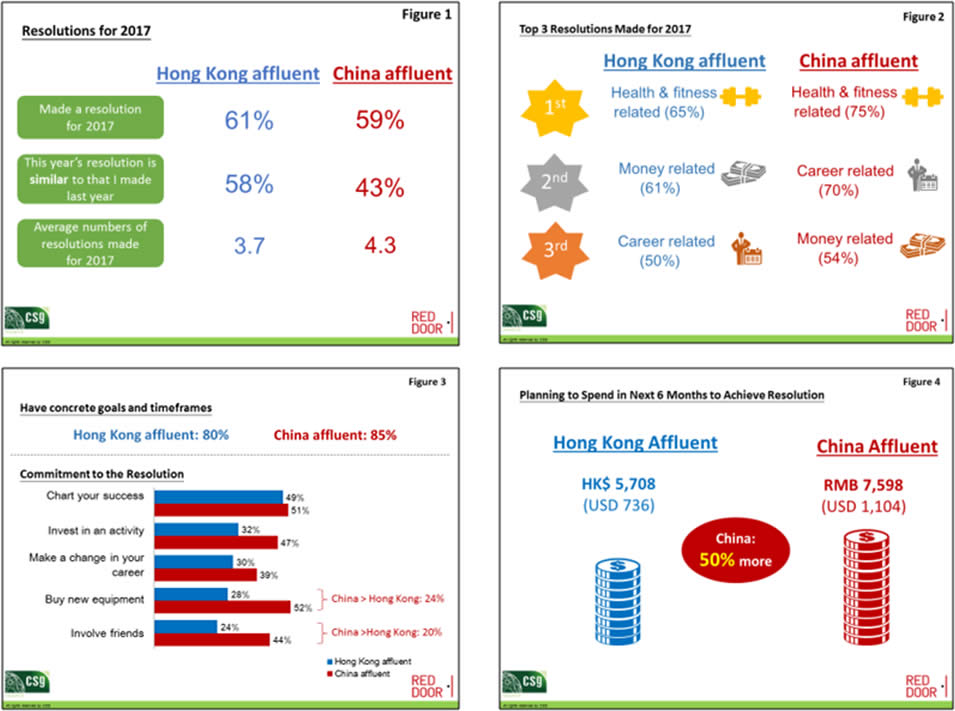 On average, Hong Kong affluent adults made 3.7 resolutions while China affluent individuals made 4.3 resolutions in 2017. More Hong Kong affluent (58%) made similar resolution that they made in 2016 compared to 43% China affluent.  The results suggest that the Chinese have a stronger desire and commitment to fulfilling their commitment relative to Hong Kong affluent. (See Figure 1)
Health and fitness goals are the top resolutions for both Hong Kong (65%) and China (75%). In terms of the 2nd highest resolution, Hong Kong affluent have a strong focus on Money goals (61%) whereas China affluent individuals focus on Career goals (70%). (See Figure 2)
In terms of commitment to the resolution, 80% in Hong Kong affluent adults claim that their goals include concrete goals and timeframes whereas we see a higher proportion in China (85%) who are committed to their goals. When we asked about their specific plans to achieve their goals, Hong Kong affluent adults, indicate a lower involvement of planning relative to China to achieving their goals. The biggest difference is in buying of relevant equipment (-24%) and involving friends (-20%) in terms of the plans to achieving goals. (See Figure 3)
And when asked how much these adults planned to spend in the next 6 months to achieve their resolution, Hong Kong indicated an average of HKD 5,708 (USD 736) whereas China is willing to spend a higher amount at an average of RMB 7,598 (USD 1,104).  The Chinese are willing to spend 50% more than Hong Kong affluent segment to achieve their goals. This will impact those providing such services that help individuals complete their resolutions, particularly in those industries involved with health and fitness. (See Figure 4)
The research was conducted in collaboration with Hong Kong based psychology and counselling practice RED DOOR.  The RED DOOR Team suggest that chances of resolutions being achieved requires goals that are specific with clear start and end dates and measurable targets. Additionally, informing other people, so that you are held accountable, can also work well for some people. Lastly, celebrate your successes along the way. Angela Watkins RED DOOR Practice Director suggests, "it is when we think that we have 'failed', that resolutions can negatively impact our mental wellbeing, so remember to be kind to yourself, acknowledge your investment and efforts, and remember, there is always tomorrow".
There is still enough time in the year to achieving our goal for 2017.
About CSG
CSG is a leading regional marketing research firm based in Hong Kong. With offices in key cities throughout Greater China, CSG provides comprehensive qualitative and quantitative research and consultancy services to clients across a variety of industries and the public sector. The group's portfolio of innovative research tools include facial coding and eye tracking. As a member of the WIN/Gallup International network, CSG provides cost-effective market research solutions worldwide. In 2013, CSG became part of the INTAGE Group. Headquartered in Tokyo, the INTAGE Group is Asia's largest marketing research group and among the top ten largest globally. For more information, please visit https://www.csg-worldwide.com.
About RED DOOR CONSELLING
Newly opened, RED DOOR Counselling, is a counselling services company working with adults and teens in Hong Kong. The team works on a variety of areas of personal topics including depression, loneliness, anxiety, relationship issues, self-esteem, and resilience, as well as areas of aspects of professional lives such as stress management, achieving career goals, and loss of direction.
For More Information
Contact:
Wesley Wu (CSG)
[email protected]
DID: +852-2591-3557
Ms Angela Watkins (RED DOOR Counselling Hong Kong)
[email protected]
DID: +852-93785428