SHANGHAI/NEW YORK — In Shanghai's luxury Lane Crawford department store, international designers like Stella McCartney, Diane Von Furstenberg and Calvin Klein now share floor space with up and coming local fashion brands Ms Min, Ming Ma and Angel Chen.
These relative newcomers are not the cheap imitations China was once known for, but the products of young designers educated at prestigious schools like the London College of Fashion and Central Saint Martins.
It is a sign of how China's fashion industry is coming into its own, and challenging Western brands on quality and design rather than price.
High-end, niche designers are not the only ones making a name for themselves, either. Homegrown Chinese fashion is also reaching everyday shoppers in department stores across the country, while affordable fashion lines are venturing overseas with the help of trendy designs and online influencers.
The rise of Chinese fashion across a range of prices — from affordable to high end — is putting pressure on international brands in an already competitive Chinese market. And as more Chinese fashion companies set their sights on the West, the pressure could go global.
China has been a key market for luxury fashion brands for years. In 2018, it accounted for a third of global luxury sales, according to McKinsey & Co.
Now, the dynamics in China's fashion market are starting to shift. "In the past, you needed Western influence," said Simon Tye of Hong Kong-based Consumer Search Group. These days domestic fashion brands are "using their authenticity to tell stories."
Tye added that Chinese President Xi Jinping's efforts to drum up national pride has sparked an appreciation of all things Chinese, especially among consumers in their 20s and 30s, who have never experienced an impoverished China.
According to recent research by Ruder Finn and CSG, 45% of Chinese consumers said they intend to buy more Chinese fashion brands in the future.
Adrian Yu, a buyer for Lane Crawford, has seen a similar shift. Chinese consumers "started exploring this new territory with questions and concerns over the production quality and authenticity." Now, he said, they buy domestic brands without a second thought. "It is a big evolution."
Shouzeng Ye has witnessed that evolution first hand. After graduating from and teaching at Shanghai's China Textile University, now called Donghua University, in 1997 he started his brand Icicle with the aim of providing comfortable yet stylish clothes for young professionals. The brand, with Ye as its chairman, focuses on natural materials like silk and wool and was an early adopter of ethical concepts.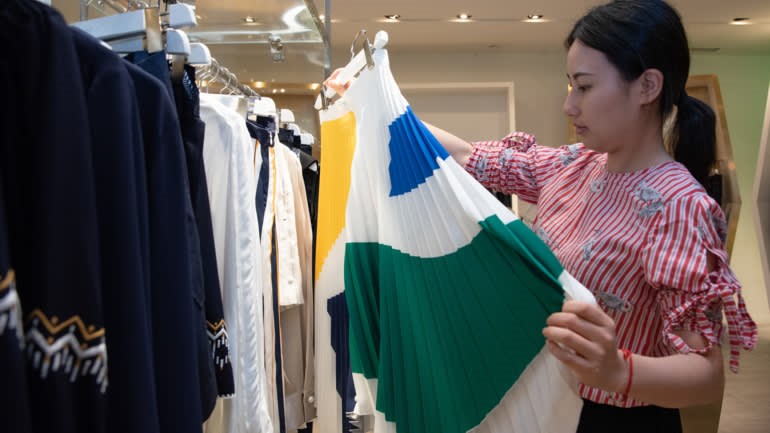 Chinese luxury brands are becoming more common at the Lane Crawford department store in Shanghai. (Photo by San Miao Photo)
The timing was not ripe for Icicle in its early stages, Ye said, and he was not always able to produce goods inline with his original concept. Prices also had to be set lower to entice young people fresh out of school.
But like many brands that started relatively early in the 1990s — around the time when fashion courses started to take off at Chinese universities — Icicle eventually benefited from the country's vast consumer market and its established garment-making industry.
"We grew as we were based in Shanghai, in a good market and hiring good talent," said Ye, founder and chairman of Shanghai Icicle Fashion Group.
Icicle now has 260 stores across China, generating operating income of 1.3 billion yuan ($188 million). It is looking to upgrade its luxury offerings, which currently include T-shirts priced at about 700 yuan and a 40,000-yuan cashmere coat.
In 2012, the company set up a design office in Paris to attract European talent, and last year, it acquired French brand Carven for 6.7 million euro ($7.4 million). "The biggest benefit of the acquisition is that we can look at how the fashion house operates," Ye said.
With stores across China, Ye says his brand is now looking at international expansion. It plans to open a flagship store in Paris in September, followed by retail outlets elsewhere in France — the most difficult market in the world, according to Ye.
"If you win [there], you can go into other markets."
Quality, according to Ye, is key to competing with international brands like MaxMara and Burberry.
"It is an advantage that we have manufacturing bases in China," he said, adding that he intends to maintain factories with skilled workers near Shanghai. The company has already acquired sewing and knitting factories owned by foreign companies who were struggling to make profit.
Luca Solca, senior research analyst at Bernstein Research, says Chinese brands need to generate about $550 million in sales to reach a comparable level to European brands. "Brands like Icicle have been very successful in China and would have the potential to expand abroad," he said, but added that he expects Chinese fashion to "blossom in the mass fashion and in the mid-price segment first," due to the lower entry hurdles.
While Icicle aims to move higher into the luxury circles, compatriot S.Deer is focusing on the middle ground, where customers spend up to $70 on average, though some items can cost over $100. Based in Nanjing, the brand was founded in 1994 by former architect Cai Gonghe.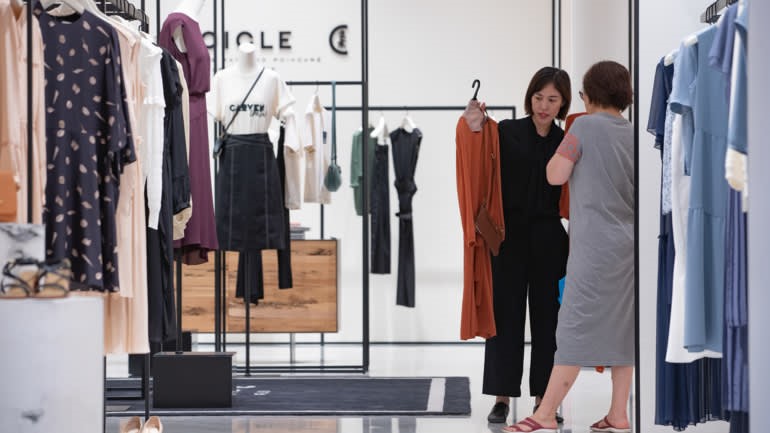 An Icicle store in Shanghai: The brand got its start in the late 1990s. (Photo by San Miao Photo)
It already has 1,300 retail outlets in China, offering design oriented clothing with pleats, rough materials and embroidery. It also has three stores in Paris.
According to CSG's Tye, Chinese brands like S・Deer — which offer middle price range — items priced from $100 to $300 — with sufficient quality and design, could take customers away from top luxury brands and cheaper fast fashion brands. Before, "there were only cheap or expensive brands."
According to Tye, the fastest-growing segment of China's population includes those who have $1 million to $5 million in liquid assets. "They are not the people constantly buying Dior, but [rather] up-and-coming brands," he said.
While Western brands are still popular, some shoppers are becoming less picky about a brand's origin.
"I look at the design and quality rather than the brand name," said Wang, a 30-year-old Shanghai residence who declined to give her first name. "I don't care whether [clothes are] Chinese or not."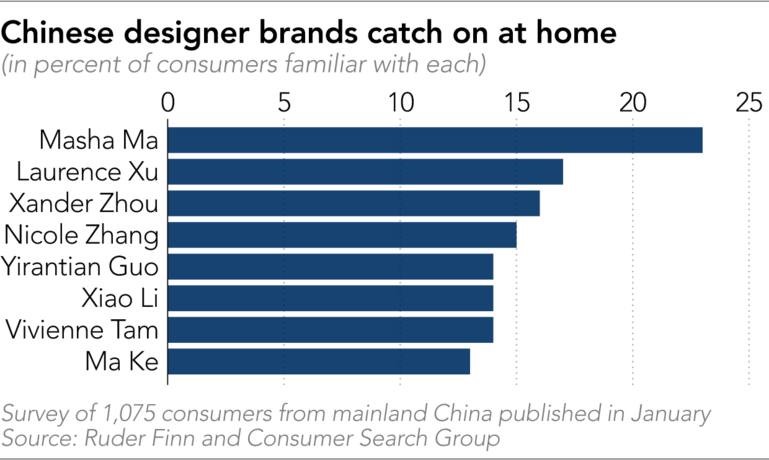 Shigeki Maeda, deputy store manager at Shanghai's Jiuguang Department Store, said Chinese brands were striking the right balance that consumers are looking for.
"Domestic brands are better in terms of balancing quality and price, and are increasing in sales," he said, adding that the share of local brands in his department store has naturally been increasing.
But such a shift creates challenges as well as opportunities. "Competition is more fierce at home" than abroad, said Seven Li, who is in charge of marketing planning at S.Deer, adding that its designs are actually more popular in Paris than in China.
There are more brands, both local and foreign, offering design-oriented clothing in China than there were in the 1990s, he said. Brands are also feeling the effect of the economic slowdown.
On top of its businesses in Paris, S.Deer is looking to open stores in Singapore and Japan, Li said.
Fierce competition at home is one reason some Chinese fashion brands have decided to focus on Western markets, using a combination of online marketing and affordability.
Like their counterparts selling in China, these brands are making the most of China's supply chain to shorten production cycles and keep up with the latest trends.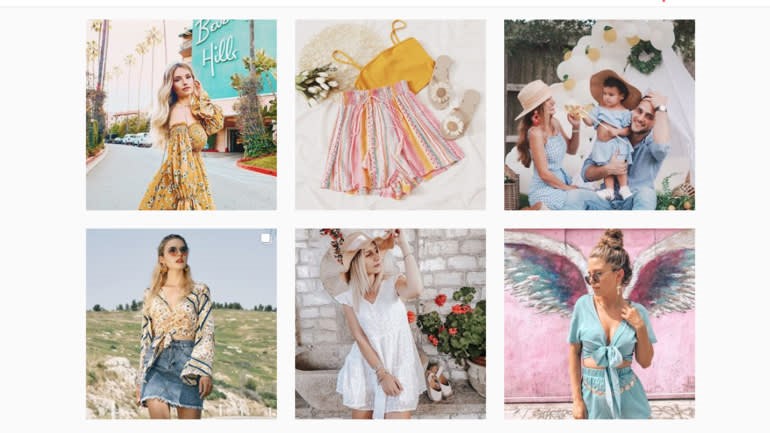 Shein on Instagram: The fashion brand makes extensive use of influencer-generated content.
Shein, a Nanjing-based fast fashion e-tailer that sells exclusively to overseas markets, boasts nearly 7 million followers on  Instagram, triple that of Japan's Uniqlo. Its website is ranked No. 7 in the fashion and apparel category, according to web analytics service provider SimilarWeb, while its mobile app sits among the top 10 in App Store's shopping category, way ahead of western brands such as H&M and Forever 21.
The company, whose products sell for mostly under $20 and sometimes as low as $5, has amassed 50 million customers worldwide from 224 countries. Its revenue surpassed 10 billion yuan (about $1.5 billion) in 2018 — nearly half that of American clothing chain Urban Outfitters — just two years after hitting the 1 billion yuan mark in 2016.
Backed by venture capital firm IDG Capital, an early investor in Baidu, Tencent Holdings and Chinese social e-commerce platform Pinduoduo, Shein's success is also internet-borne.
The company has no physical stores apart from occasional pop-ups, but is big on targeted ads on social media platforms such as Facebook and Instagram. It has worked with hundreds of fashion influencers, whose own followers range from a thousand to several million.
"Shein is a prime example of a company that was born in China and built for a new retail model," said Michael Zakkour, vice president of Asia strategy at supply chain consulting firm Tompkins International and author of "The New Retail: Born in China, Going Global."
"Going right to social is the primary driver for customer acquisition," Zakkour said. "They are also really focused on taking a lot of feedback and data from the consumers they are selling to and pulling that in real time, constantly changing their offer."
Maria Lopez, a college student in Los Angeles, made her first purchase from Shein last year, after seeing the brand pop up repeatedly in social media ads. Some of the fashion influencers she follows also raved about Shein and shared links to its site as well as discount codes.
Lopez now shares her own outfits from Shein on Instagram, and said she is planning to start a fashion blog of her own.
Social media has already emerged as the No. 1 channel consumers find inspiration for their purchases, according to a 2018 survey by consultancy PwC. Lopez' generation, considered true "digital natives" by consumer trend watchers, are even more likely to base buying decisions on information from such platforms.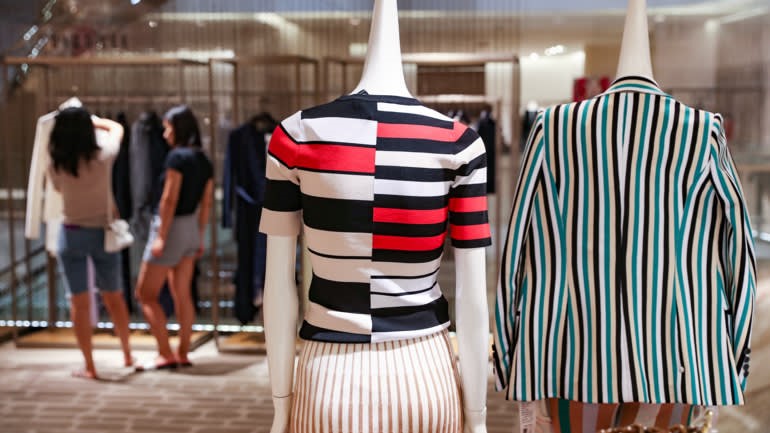 Shanghai's luxury Lane Crawford department store (Photo by San Miao Photo)
Shein's rapid growth in recent years stands in contrast with retail woes faced by some of the Western market leaders in fast fashion: Los Angeles-based Forever 21, for one, is shutting stores amid a fall in estimated sales. U.K.-based Primark, which does not have its own online outlet, has been seeking rent cuts from landlords to cope with rising costs, the Financial Times reported.
Shein is not China's only cross-border fashion startup.
Globalegrow E-Commerce, the Chinese company behind Shein rivals Zaful and Rosegal, also reported sales over 10 billion yuan last year.
The model behind these Chinese startups' success can be traced back to the first wave of independent clothing labels that prospered on Alibaba Group Holding's online marketplace Taobao as early as the 2000s. These fashion newcomers refined the art of product promotion using a combination of visuals, search optimization and influencer marketing.
Now they are applying lessons on digital growth to foreign markets. And unlike brick-and-mortar peers, they can easily enter a new country without the costs associated with opening physical stores, including rent.
International expansion for Chinese brands is set to gain new momentum this fall, as Alibaba announced plans to expand its partnership with New York Fashion Week to promote top and emerging Chinese designers.
Many aspiring Chinese fashion designers, however, are content to stay home. "In the last 10 years, many people headed to Europe," said Icicle's Ye. But comparing the economic conditions, "they know there are more opportunities in China."
Source: Nikkei Asian Review
https://asia.nikkei.com/Business/Industry-in-focus/Homegrown-Chinese-fashion-comes-into-style-on-world-stage
For more information, please contact:
Simon Tye
Executive Director, CSG
Email: [email protected]
Tel: (+852) 2591-3526
For download full report of the 2019 China Luxury Forecast, please click the following link: