Over 60% of employees in Singapore view their employers as supportive compared to 38% of employees in Hong Kong
Hong Kongers felt supported due to provision of masks and flexible work arrangements.
Singaporeans felt supported due to increase hygiene standards and being kept informed (guidelines, business continuity).
Almost 60% Hong Kong residents felt that COVID-19 will have extremely negative economic impact compared to 25% in Singapore
Almost half of Hong Kong residents felt that COVID-19 impact on the economy will be a lot worse than SARS compared to just 27% in Singapore
When it comes to information about COVID-19, Singapore placed less trust in social media compared to Hong Kong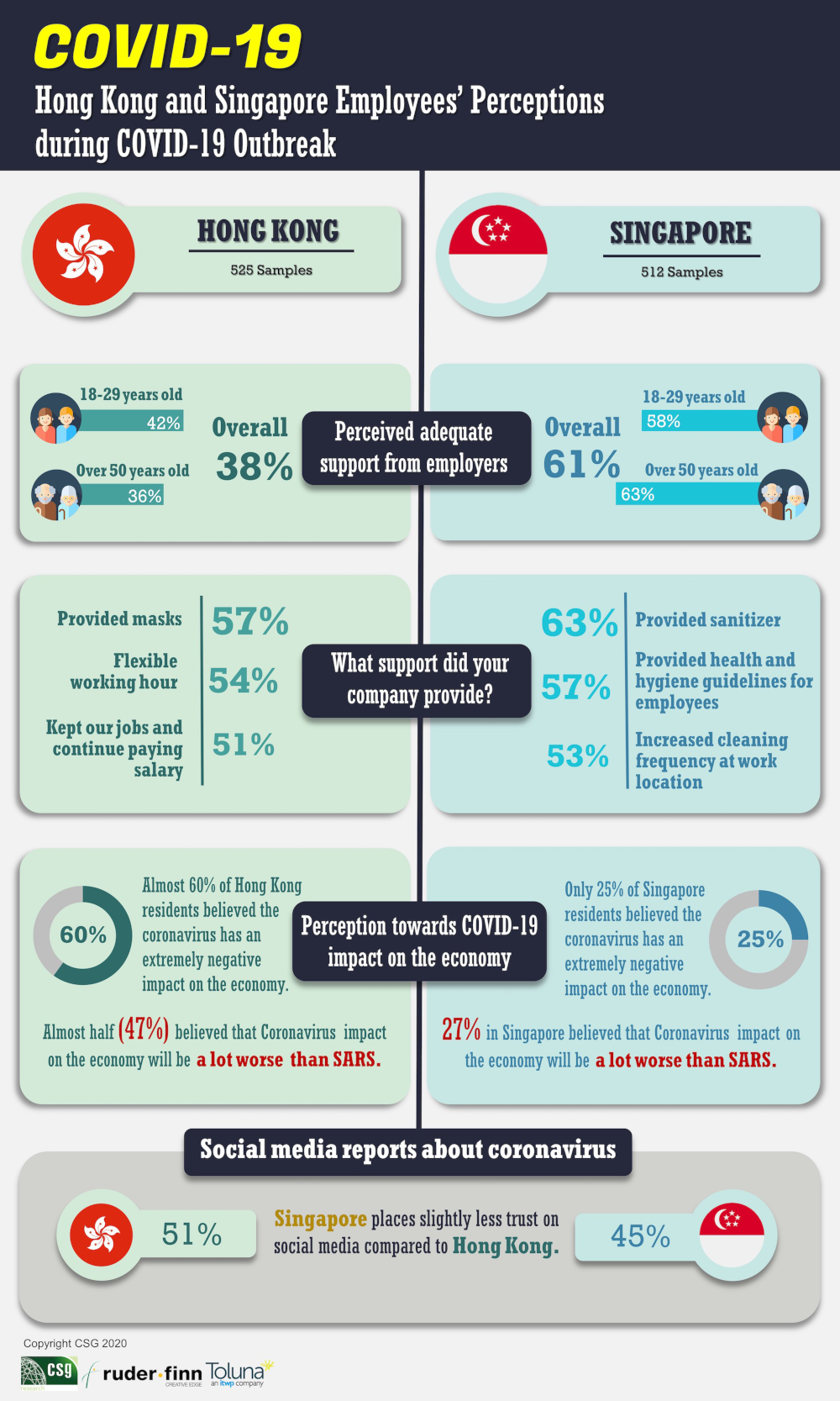 New Research Reveals Only a Third of Hong Kong Employees Feel Supported During the COVID-19 Outbreak, While Almost Half Expect the Economic Impact to be Worse than SARS
HONG KONG, Wednesday, 4th March 2020: In the week of February 24, Consumer Search Group (CSG), one of Asia's most prominent market research firms, and Ruder Finn, a global leading integrated communications consultancy, has jointly conducted a research to study the impact by the COVID-19 outbreak, with 525 samples in Hong Kong and 512 samples in Singapore respectively. This research reveals the contrast in the reaction between Hong Kong and Singapore towards the COVID-19 outbreak. The difference in perceived support from the employer is particularly striking with significantly more Singapore employees being happy with employers' support compared to Hong Kong.
In Hong Kong where civil servant and private sectors return to work, the CSG-Ruder Finn survey found that fewer employees in Hong Kong viewed their employers as supportive. While only 38% of Hong Kong employees viewed their employers as supportive, more than 60% of employees in Singapore felt the same way. On the flip side, whereas 20% of employees in Hong Kong felt that their employers had provided inadequate support, only 5% of employees in Singapore deemed so.
In addition, CSG and Ruder Finn revealed that there are differences between younger and mature employees in perceiving adequacy of support by their employers in Hong Kong and Singapore. While 42% of younger employees (aged 18-29) in Hong Kong felt more supported by their employers, only 36% of mature employees (50 years old or above) felt the same way. Conversely, 58% of the younger employees in Singapore and 63% of mature employees felt supported.
Simon Tye, Executive Director of CSG comments that "It is a challenging time for all, in the midst of this epidemic, support from employers contributes towards strengthening employees' psychological resilience. We must work together to support each other, stay flexible and provide accurate information to give people the confidence to move forward."
Majority of employees in Hong Kong felt supported by their employers due to the provision of masks (57%), flexible working hours (54%) and flexibility to work from home (51%). Employees in Singapore felt supported due to the provision of sanitizer (63%), providing health and hygiene guidelines for all employees to stay healthy (57%), increase hygiene standards in the work environment (53%) and action steps for business continuity (52%).
With the spread of the COVID-19 and its significant impacts on the economy, the CSG-Ruder Finn survey indicates that almost 60% of Hong Kong residents believe that the coronavirus outbreak has an extremely negative economic impact, whereas only 25% feel the same in Singapore. In addition, almost half (47%) of Hong Kong residents believed that coronavirus outbreak's impact on the economy will be a lot worse than SARS compared to just 27% in Singapore.
When it comes to information about the COVID-19, Singapore places slightly less trust in social media (45%) compared to Hong Kong (51%). 55% of Singaporean believes that social media is a source of misinformation.
"The gap in perception between employees from the two cities could mainly be attributed to the differences in approach when providing support. Employers must put their employees as a priority, listen to them and build bi-directional internal communications channels." said Elan Shou, Executive Vice President and Asia Director at Ruder Finn.