CSG is a member of the INTAGE Group, the world's 7th largest market research company and the market leader in Japan. With this membership, CSG is committed to enhance our research offerings through the INTAGE network and provide the latest research solutions that will add value to you.
Have you thought about the following in your work?
You like to understand how products are actually purchased by consumers instead of relying on their recall which may not fully reflect the reality
You like to gather photos that clearly show how consumers live and feel
You like to gather a group of consumers who will share opinions on-going for an extended period of time
We are proud to present a new Branded Solution, MyReco.
MyReco is an interactive survey (diary style) conducted via smartphone, for consumers to record their moments which clients want to learn the most about.
With MyReco survey, consumers access a dedicated survey link to share their moments and views.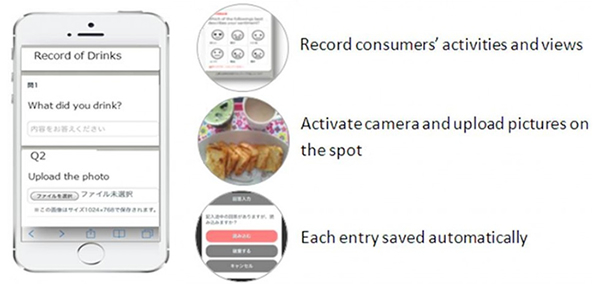 MyReco can be used to record consumers' information exposure, purchase behavior and usage behaviors when and where it happens. It provides detailed consumer behaviors and sentiments that cannot be fully captured based on consumer recall.
If you like to know more about MyReco and its benefits to you, please contact Winnie Poon, Research Director at [email protected]. If you have questions about CSG Branded Solution Series, please email to [email protected].
Stay tuned for more branded solution introductions and other CSG updates in 2015!